MathSmart Tutoring performed a 5-year statistical study using our tutors and students ranging from elementary through high school levels. We collected data from all students in their first semester with us, who started with a grade of "B" or lower, rarely cancelled tutoring sessions, and regularly did their homework in school.
Our study found that our students improved their test scores by an average of two full letter grades by the end of their math and science courses. Most MathSmart students received an "A" in their second semester with us as their final letter grade.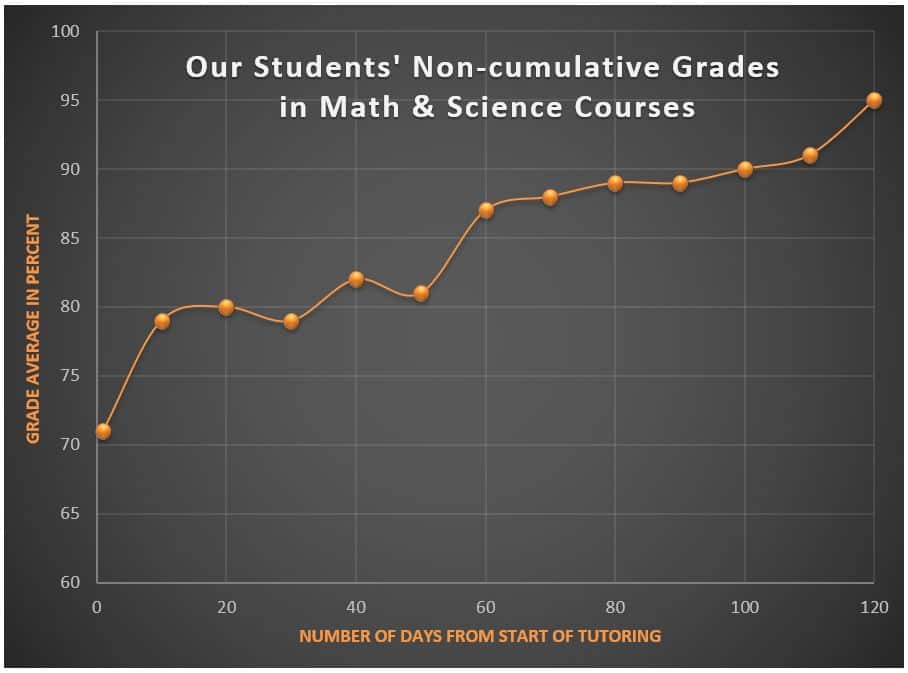 The ultimate goal of MathSmart Tutoring is to enable our students to become independent learners, without a need for tutoring after a short period.
As a result of our tutors challenging our students to become self-reliant in their studies, many of our tutees were accepted to Brown University, Columbia University, Cornell, Duke University, Harvard, Johns Hopkins University, Princeton, Stanford, Tufts University, UCLA, The University of Chicago, The University of Maryland, The University of Michigan, Yale, and many other prestigious colleges.
Call us right away, don't delay!
301-947-8847

At MathSmart Tutoring, we provide in home tutoring services – delivering results that echo through your child's life for years to come. In line with our passion to deliver the best possible education for your child, we performed a 5-year statistical study using our own elementary math tutors, as well as middle and high school math tutors and their students. We worked with kids and tutors from all levels, from elementary all the way through to high school, collecting important data gathered from their first semester with us. We focused on those who started out with a "B" grade or below, regularly completed homework, and rarely missed a tutoring session.
The verdict?
We found that our most diligent, dedicated students saw improved test scores by an average of TWO FULL LETTER GRADES by the end of their courses – math or science! In fact, most of our students' grades evolve into a shining A by their second semester, thanks to our high school physics tutors. Our study showed that working with MathSmart is a key way to ensure an uphill journey that guarantees results, through the power of in home tutoring services.
Our Passion
We are committed to empowering the youngest members of our generation with the knowledge and self-esteem they need to become independent learners for life. The fact that we're so passionate about hiring the best elementary math tutors means we can easily achieve our goals.
Many of our students have gone on to obtain acceptance into the following prestigious universities – and our high school physics tutors are proud to be able to take credit for that:
Brown
Columbia
Cornell
Duke
Harvard
John Hopkins
Princeton
Stanford
Tufts
UCLA
Chicago
Maryland
Michigan
Yale
AND MORE!
Give us a call today to learn more about our in home tutoring services and give your child the gift of LEARNING today!
(301) 947-8847