Society often brainwashes us into believing that 'greatness' is reserved for a select few, while the rest of the kids are supposed to watch them enjoy all the glory. At MathSmart Tutoring, we believe EVERY child is worthy of greatness – and yours is no exception.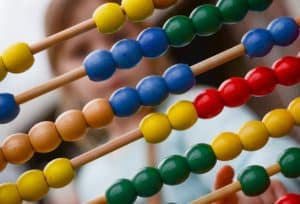 The thing is, your child's time between classroom walls isn't always enough to produce the results you're after. That's what makes hiring an elementary math tutor or private algebra tutor so important. If you're searching for the best math tutor in Bethesda, the search stops here!
MathSmart is committed to raising the leaders of tomorrow, today. If your little one is battling to bring their grades up, or if they lack confidence, motivation, and self-esteem, our elementary math tutors can help. When it comes to your child's education, your demand is our command.
What does it take to be a top math tutor in Bethesda?
It's not only about being good at math. Tutoring is an industry of its own, and it's critical for private algebra tutors to have an insatiable PASSION for seeing grades rise. That's why we do things differently from anyone else in the industry, taking on the role of 'student' to put our educators to the test.
Why choose MathSmart?
Private, 1-on-1 tutoring
100% satisfaction guarantee
Guaranteed grade increase with child's focus and dedication
Personally customized lessons
Rigorous vetting and hiring process
Highly-qualified tutors
Flexible hours
At the end of the day, our elementary math tutors and private algebra tutors are second-to-none – meaning your child's education is in safe hands. But – don't take our word for it. Read our reviews to see what our happy parents have to say about their experience with MathSmart!
Give Your Child the Gift of Learning Today!
(301) 947-8847
Biographies of our outstanding Math tutors
Dina has a BA from Rutgers University in chemistry and Ph.D. in organic chemistry from the University of California at San Diego,. She has been a private tutor in Montgomery County for the last20 years, and taught a 9-week SAT prep course for Test Smart. She also worked for Basics & Beyond Learning Center in NJ where she prepared students for SAT and taught college level mathematics, physics, and chemistry.
David has a Ph.D. and Masters in Applied physics from Columbia University and a BS in theoretical physics from the Cooper Union university in NYC. He taught math and statistics at the University of Maryland at UMUC, tutored math, physics and English at Novastar Prep Tutoring. He taught high school biology and math at Mesivta of Baltimore. And taught undergraduate astronomy at Loyola University (Baltimore). He was also a support scientist at NASA and a Senior scientist for a few companies.
Elliot is working on a Ph.D. in mathematics at the University of Maryland/CP, expected to graduate in 2020. He has a B.S. in mathematics from UMD/CP. He has been a math tutor for the past 2 years for Spidersmart, math through calculus. He has also been a private tutor for 3 years tutoring through third semester Calculus, differential equations and linear algebra as well as literature and writing composition.
Harrison is working on a Ph.D. in Astronomy at the University of Maryland, and has a BA in physics and astrophysics from the University of California, Berkeley. He is a TA at the University of Maryland Department of Astronomy, teaching Astronomy 101. He was a teaching assistant at Berkeley Department of Astronomy, where he taught a course called, The Planets, and also taught a general astronomy course.
John has BS in astrophysics from Brown University. He was a teaching assistant at Brown, where he taught physics, and tutored physics and math through calculus. He taught math at Saint Anselm's Abbey School in Washington DC.
Khanh has a BS in Biochemistry with a minor in Math from St. Mary's College in Maryland. She was a general Chemistry and Organic Chemistry teaching assistant at St. Mary's College, and a research assistant at the University of Maryland School of Medicine in Baltimore. She has tutored math and chemistry privately.
Marilyn has a Masters of Education in Elementary Education from the University of Maryland, College Park. She has been a math teacher at New Hope Academy from 1993 to 2018 where she teaches grades 1 through algebra I and geometry. She tutored students for 25 years including those with LD in math. Before that she was a guidance counselor for 6 years in Russia.
Michael has a BS in Physics and Astronomy from the University of Rochester. He tutored for Mathnasium in Ellicott City for 3 years, for grades 1 through calculus and SAT/AP test prep. He also tutored privately high school math, geometry and physics.
Michelle has a BS in physiology and neurobiology from the University of Maryland, CP. She was an academic tutor and did test prep for LS Tutors and on her own since 2011. She tutors elementary to high school students in almost all academic subjects as well as AP, ACT, SAT, and SAT subject test prep. She has experience tutoring students with dyslexia, ADHD, ADD, learning disabilities and autism. Right now she is a business manager at Doctors to you where she develops business strategies, does recruitment and training, etc.
Ramya has a Ph.D. in Physics from the University of Pennsylvania and a BS in Physics and Astrophysics from Penn State. She was an ROTC Tutor at Penn State where she tutored undergraduates in introductory calculus, and physics.
Victoria has a Ph.D. in Statistics and Economics from Michigan State University. She taught Advanced Econometrics, Mathematics for Economists, Advanced Statistics, and Micro and Macro Economics at Michigan State University. She has tutored Math, Statistics, and SAT/GRE/GMAT preparation along with Econometrics, Economics and Applied Programming privately.