We care about your child's education just as much as you do. That's why we're pretty picky when it comes to asking tutors to join our team. In fact, on average, we only invite 1 in every 13 tutoring candidates for interviews. Those we do interview are asked numerous thought-provoking questions, after which we carefully analyze their responses. Every experienced tutor who joins our team is guaranteed to be not only highly intelligent, but also warm, friendly, compassionate, and a "people's person." Our tutors share all the values you expect and demand – patience, responsibility, and enthusiasm for your child's learning experience. Basically, our tutors are the crème de la crème.
Here's a look at the qualifications our tutors have – all of whom possess one or more of them.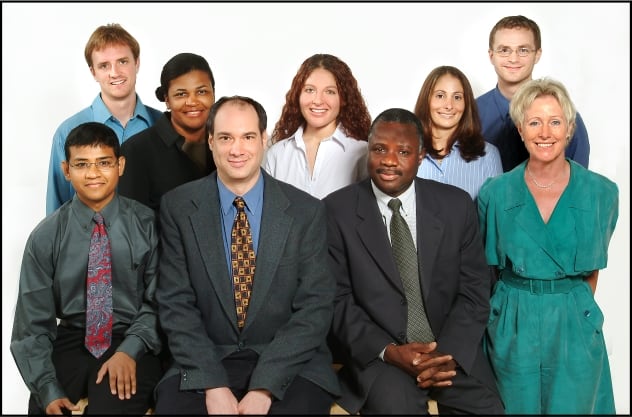 A teaching certificate.
An advanced degree in math, science or engineering.
Graduate student at a very challenging university seeking a degree in math or science.
A BA/BS degree from a challenging university in math, science, or engineering.
We also require all tutors to have at least 1 to 3 years of tutoring experience in Math or Science. Many also have classroom teaching experience.
Finally, our tutors must demonstrate their expertise in the following ways:
They are tested in their subject areas and required to give the president of the company a mock lesson in math or science.

They must provide three excellent references.

They must provide their university transcripts.

They must pass a background check.
Give Your Child the Gift of Learning Today!
(301) 947-8847
Biographies of our outstanding tutors
Dina has a BA from Rutgers University in chemistry and Ph.D. in organic chemistry from the University of California at San Diego,. She has been a private tutor in Montgomery County for the last20 years, and taught a 9-week SAT prep course for Test Smart. She also worked for Basics & Beyond Learning Center in NJ where she prepared students for SAT and taught college level mathematics, physics, and chemistry.
David has a Ph.D. and Masters in Applied physics from Columbia University and a BS in theoretical physics from the Cooper Union university in NYC. He taught math and statistics at the University of Maryland at UMUC, tutored math, physics and English at Novastar Prep Tutoring. He taught high school biology and math at Mesivta of Baltimore. And taught undergraduate astronomy at Loyola University (Baltimore). He was also a support scientist at NASA and a Senior scientist for a few companies.
Elliot is working on a Ph.D. in mathematics at the University of Maryland/CP, expected to graduate in 2020. He has a B.S. in mathematics from UMD/CP. He has been a math tutor for the past 2 years for Spidersmart, math through calculus. He has also been a private tutor for 3 years tutoring through third semester Calculus, differential equations and linear algebra as well as literature and writing composition.
Greg R. has a BS in Geophysical Sciences from the University of Chicago. He researched various parameters of an instrument over Lake Michigan. He got a Master's Degree in meteorology at SUNY/Albany. He is a forensic meteorologist at a meteorological consulting company and tutors math and physics in the evenings and weekends because he loves working with kids in middle school and high school.
Harrison has a Ph.D. in Astronomy from the University of Maryland and a BA in physics and astrophysics from the University of California, Berkeley. He is a TA at the U of MD dept of Astronomy teaching Astronomy 101. He was a teaching assistant at Berkeley dept of astronomy where he taught a course called The Planets and also a general astronomy course.
John has BS in astrophysics from Brown University. He was a teaching assistant at Brown, where he taught physics, and tutored physics and math through calculus. He taught math at Saint Anselm's Abbey School in Washington DC.
Khanh has a BS in Biochemistry with a minor in Math from St. Mary's College in Maryland. She was a general Chemistry and Organic Chemistry teaching assistant at St. Mary's College, and a research assistant at the University of Maryland School of Medicine in Baltimore. She has tutored math and chemistry privately.
Marilyn has a Masters of Education in Elementary Education from the University of Maryland, College Park. She has been a math teacher at New Hope Academy from 1993 to 2018 where she teaches grades 1 through algebra I and geometry. She tutored students for 25 years including those with LD in math. Before that she was a guidance counselor for 6 years in Russia.
Matt G. has a Bachelor's and Ph.D. from Berkeley in Chemistry. He was a TA at Rutgers where he led a discussion section in Organic Chemistry I. He has tutored privately for over five years.
Michael has a BS in Physics and Astronomy from the University of Rochester. He tutored for Mathnasium in Ellicott City for 3 years, for grades 1 through calculus and SAT/AP test prep. He also tutored privately high school math, geometry and physics.
Michelle has a BS in physiology and neurobiology from the University of Maryland, CP. She was an academic tutor and did test prep for LS Tutors and on her own since 2011. She tutors elementary to high school students in almost all academic subjects as well as AP, ACT, SAT, and SAT subject test prep. She has experience tutoring students with dyslexia, ADHD, ADD, learning disabilities and autism. Right now she is a business manager at Doctors to you where she develops business strategies, does recruitment and training, etc.
Mitra has a Masters in Chemistry from the University of North Carolina at Charlotte. She is a chemistry instructor at Washington Adventist University and Montgomery College, where she teaches general chemistry, organic chemistry and biological chemistry. She previously taught at Catholic University, James Madison University and Danville Community College. She tutored students in chemistry privately for several years.
Ramya has a Ph.D. in Physics from the University of Pennsylvania and a BS in Physics and Astrophysics from Penn State. She was an ROTC Tutor at Penn State where she tutored undergraduates in introductory calculus, and physics
Stephen H. has a Bachelor's and a Master's Degree from Yale in mathematics. He tutors privately and has worked for numerous tutoring companies in Hartford, Connecticut and New York City. He is currently a Ph.D. student at the University of Maryland/CP where he is working on a degree in Mathematics.
Victoria has a Ph.D. in Statistics and Economics from Michigan State University. She taught Advanced Econometrics, Mathematics for Economists, Advanced Statistics, and Micro and Macro Economics at Michigan State University. She has tutored Math, Statistics, and SAT/GRE/GMAT preparation along with Econometrics, Economics and Applied Programming privately.